Beet-iful Gluten-Free Cupcakes
Before you go away because these are made with beets and you don't love beets, wait. These are really good cupcakes. And for an indulgent-tasting dessert, they're pretty nutritious, too! The beets add vibrant pink color and moisture, not to mention all those nutrients.
Every time I make these, I am shocked at how fast they disappear.
Top them with you favorite frosting – my family loves them with cream cheese frosting, but I opt for my Fluffy Dairy-Free Lemon Frosting. Either way, these are delish!
Beet-iful Gluten-Free Cupcakes
Beet-iful Gluten-Free Cupcakes
This recipe is free from gluten, dairy/casein, soy, peanuts, tree nuts, corn. Egg-free option.
Ingredients
1½ cup Gigi's Everyday Gluten-Free Flour Blend (Gum-Free) (or similar gum-free gluten-free flour blend)
½ Tablespoon baking powder (use homemade baking powder for corn-free)
¼ teaspoon salt
⅛ teaspoon baking soda
4 Tablespoons fat, cold (use dairy-free butter substitute, coconut oil, or real butter if not dairy-free)
¼ cup plus 2 Tablespoon honey (substitute another liquid sugar like agave nectar or pure maple syrup if you prefer)
Egg replacer (prepared) to equal 2 eggs (If you prefer, use 2 real eggs, but note you will get some color changes with the yellow of the yolks)
1 medium roasted beet, peeled and cut into cubes (See how to cook beets.)
¼ cup milk (use any plant- or dairy-based milk you like to bake with; I use unsweetened coconut milk.)
1 teaspoon pure vanilla extract
Instructions
Line a 12-section cupcake pan with paper liners.
Preheat oven to 350F.
In the bowl of your food processor, combine beets and milk; process until the mixture is smooth; set aside.
In a mixing bowl, combine flour, baking powder, salt and baking soda; whisk to blend.
Cut in the fat with fork or pastry blender until a fine crumb mixture is achieved.
In a separate bowl, combine the honey, prepared egg replacer (or real eggs), beet puree and vanilla; stir to combine, then add it to the dry ingredients.
Stir just until no dry ingredients remain visible.
Divide mixture evenly between 12 sections of cupcake pan.
Bake 15-20 minutes, or until tops appear dry and spring back lightly when touched or a toothpick inserted in center comes out clean.
Cool completely before frosting.
Thought you'd like to know…
You can watch me make Beet-iful Cupcakes in the YouTube video linked below.
I bake my cupcakes for 17 minutes. Keep an eye on them so they don't over-brown.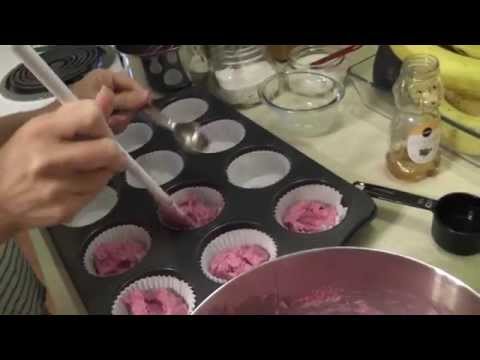 Don't miss another delish dish! Sign up for my free eNewsletter, the Daily Gluten Free Fix, and have each new recipe and article delivered to your inbox.
While you're here, browse the Recipe Index for recipes free from gluten, dairy, soy, peanuts, and tree nuts. And be sure to explore my vast collection of "Smart Nutrition Backed by Science" articles in the Knowledge section and check out eBooks in the Shop.
If you're NEW TO GLUTEN FREE LIVING, click on over to the Essentials.
Wait, there's more! Let's connect on Facebook, Twitter, Pinterest and Instagram, too!
Access the current issue of Food Solutions Magazine ~ it's free to everyone!
xo
Gigi ;)