Decadent Dairy-Free Fudge
Admittedly, fudge is not something I keep around the house for snacking. Not that I don't want to. It's just that in my world "fudge" and "snacking" don't go together. You understand.
But there are those times, like when we pass around the Christmas cookie tray, which of course has more than only cookies on it, that I enjoy a decadent piece of "real" fudge, but without the dairy.
This is my go-to recipe and it easily passes as the "regular" dairy-full version. It is smooth, velvety and rich, just like homemade fudge should be.
With fudge, we don't worry so about gluten, but when you can't eat dairy products, fudge becomes a problem, so thank goodness for coconut milk in a can!
Some folks are concerned the coconut milk will impart a coconut flavor – no worries – it does not. The fudge is exactly like traditional fudge in texture and flavor, and sets up quickly, needing no refrigeration.
Just be sure to follow the directions carefully (and read the comments, too), and of course, a candy thermometer is helpful to achieve just the right temperature you need for perfect fudge every time! You can even watch me make it in my YouTube video, linked below!
Decadent Dairy-Free Fudge
Gluten Free Dairy Free Fudge
Recipe type:
Other Dessert, Candy
Ingredients
3 cups sugar
⅔ cup cocoa powder
⅛ teaspoon salt
1 can (14 ounce) coconut milk (full fat, I use Thai Kitchen brand)
¼ cup Earth Balance butter spread
1 teaspoon vanilla extract
Instructions
Line an 8-inch square baking dish with aluminum foil, allowing foil to hang over the sides (you will use this to lift the fudge from the pan later).
Grease the foil lightly; Set aside.
In a large saucepan (4-quart or larger), combine sugar, cocoa, salt and coconut milk.
Stir over medium heat until sugar dissolves and the mixture comes to a full boil. Boil, not stirring, until the temperature reaches 234 degrees (use a clip-on candy thermometer for accuracy).
Remove the pot from the heat; add Earth Balance and vanilla, but DO NOT STIR. Leave candy thermometer in place and allow the mixture to cool to about 125 degrees.
Once cooled, use a wooden spoon to beat the mixture until it becomes thick and begins to lose its gloss.
Quickly spread the fudge evenly into the prepared pan; Set aside to cool.
Once cooled, remove the fudge from the pan by lifting the foil lining.
Cut into squares and store tightly wrapped at room temperature.
See how simple my Gluten Free Dairy Free Fudge is to make: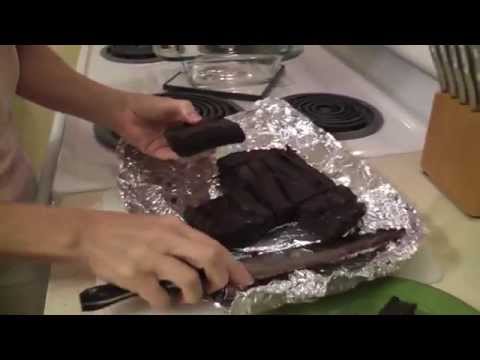 Don't miss another delish dish! Sign up for my free eNewsletter, the Daily Gluten Free Fix, and have each new recipe and article delivered to your inbox.
While you're here, browse the Recipe Index for recipes free from gluten, dairy, soy, peanuts, and tree nuts. And be sure to explore my vast collection of "Smart Nutrition Backed by Science" articles in the Knowledge section and check out eBooks in the Shop.
If you're NEW TO GLUTEN FREE LIVING, click on over to the Essentials.
Wait, there's more! Let's connect on Facebook, Twitter, Pinterest and Instagram, too!
Access the current issue of Food Solutions Magazine ~ it's free to everyone!
xo
Gigi ;)