Gluten-Free Naan Bread
You can have Gluten-Free Naan Bread (flat bread) ready in under an hour, and no one will ever guess that it's gluten-free!
To make it easier for you, especially if you're new to gluten-free (or any) naan-making, I have a detailed how-to video where you can see me make this recipe. Before you begin, take a look at the video, and also mix up your flour blend since this recipe calls for my Basic White Gluten-Free Flour Blend without Gum.
Updates (June 2014):
I have streamlined this recipe since the original was posted in 2011, so the video will show the original method, and below you will find the even simpler method.
For the original method (as seen in the how-to video):
1. Prepare a counter top or large cutting board by covering it with wax paper. This is where you will shape the dough.
2. Line a large baking pan with a separate sheet of wax paper. This is where you will place the uncooked bread rounds to rise. Also have a kitchen towel ready for covering them.
3. Have a skillet and some olive oil handy for frying the bread rounds prior to baking.
4. Line a large baking pan with foil for baking the bread. You will need a piece of foil 2 times the length of your pan. This is so you can fold it over the bread to trap the steam while it is baking.
For the streamlined method (as in the recipe below):
1. Line a baking pan with parchment paper.
2. Have a skillet and some olive or other oil handy for frying the bread rounds prior to baking.
 Gluten-Free Naan Bread
Gluten-Free Naan Bread
This recipe is free from gluten, dairy (optional), soy, peanuts, tree nuts. There is also an egg-free option that readers say works very well.
Ingredients
½ cup warm water (105 degrees F)
2 teaspoons yeast
1 Tablespoons sugar
250 grams (about 2 cups) gluten-free flour blend without added gums like Gigi's Everyday GF Blend or King Arthur Flour Multipurpose GF Flour
¾ teaspoon salt
⅛ teaspoon guar gum (or equal amount of xanthan gum)
⅛ teaspoon garlic powder, optional
1 egg, lightly beaten (For egg-free version, use flax, chia or egg replacer alternatives here.)
2 Tablespoons milk (I use unsweetened coconut milk from a carton, not canned coconut milk. Use dairy-based or dairy-free milk of your choice.)
Oil, for cooking in skillet (I use coconut or avocado oil; use what you like.)
Additional gluten-free flour blend for shaping dough rounds, if using original method.
Instructions
For both methods, begin the same way:
Combine water, yeast and sugar; set aside for several minutes to proof the yeast.
While yeast is proofing, in a mixing bowl, combine flour, salt, guar gum and garlic powder (if using); whisk to blend.
Add liquid yeast mixture, egg and milk to dry ingredients; stir until mixture forms a dough.
***For the UPDATED STREAMLINED METHOD:***
Using a small dough scoop, about 2- to 2½-inches in diameter, scoop mounds of dough onto parchment lined cookie sheet, spacing about 2 inches apart. (I get 9 rounds of dough. You can make these larger, if you wish for wraps. In the original recipe, I make 4 large flat breads with this same amount of dough.)
Lightly spritz top of dough rounds with oil, then cover with wax paper and allow to rest for 25 minutes. (I place mine on the top of the oven while it is preheating to 275F for finishing the flat bread.)
When the resting time is up, heat a skillet over medium-high heat, then add a small amount of oil (about ¼ teaspoon is enough for each side of the dough).
Using an oiled spatula, scoop up a single mound of dough and place it in the hot skillet. (The dough may squish together a bit as you scoop, but you can pat it out a bit with the spatula if needed once in the skillet.)
Cook each round of dough 1-2 minutes per side until golden brown.
Transfer to a parchment lined cookie sheet, then once all rounds of dough are cooked, place the pan in a 275F oven for 5-8 minutes to cook through. Serve and enjoy!
***For the ORIGINAL METHOD:***
Pick up where we left off just after mixing the dough.
Use a small amount of gluten-free flour blend to dust the wax paper lined surface that you will use for shaping your dough rounds. Also dust your palms. This will keep the dough from sticking to either your hands or the surface, making it easier to work with.
Divide the ball of dough in the bowl into 4 equal parts. (You may make them smaller and make more if you prefer.)
Shape each piece into a circle about ¼-inch thick (almost like a small pizza crust).
Place each round onto the pan you lined with wax paper.
Cover the pan with a clean kitchen towel for 25-30 minutes to allow the dough rounds to rise (or proof).
While the bread is rising, preheat your oven to 275F.
After the 25-30 minutes of rising time is up, it's time to fry the bread rounds for 3-4 minutes on each side in a skillet. Use a small amount of olive oil (up to ½ teaspoon per side of each round of dough) over medium-high heat.
After frying each dough round, transfer it to the foil-lined pan.
Once all four rounds are done, fold the large sheet of foil back over the top of them and lightly seal the edges to allow the bread to steam and finish cooking inside.
Bake 5 minutes at 275F.
When the time is up, remove from oven and carefully uncover the bread; serve warm.
Notes:
The dough is soft and delicate, so take care when shaping.
You will not see a dramatic rise but this step is important for a tender bread.
To help the rising process, I like to place my pan of rising dough rounds on top of the oven while the oven preheats.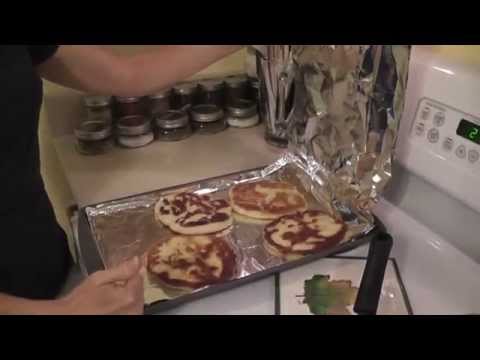 Don't miss another delish dish! Sign up for my free eNewsletter, the Daily Gluten Free Fix, and have each new recipe and article delivered to your inbox.
While you're here, browse the Recipe Index for recipes free from gluten, dairy, soy, peanuts, and tree nuts. And be sure to explore my vast collection of "Smart Nutrition Backed by Science" articles in the Knowledge section and check out eBooks in the Shop.
If you're NEW TO GLUTEN FREE LIVING, click on over to the Essentials.
Wait, there's more! Let's connect on Facebook, Twitter, Pinterest and Instagram, too!
Access the current issue of Food Solutions Magazine ~ it's free to everyone!
xo
Gigi ;)