Gluten-Free Pancakes
Carefully woven into my vivid Native American and British genetic tapestry, there is a durable thread of Scandinavian heritage. Perhaps that explains my love of lingonsylt – lingonberry jam. These Gluten-Free Pancakes make an ideal partner for tart-sweet lingonberry jam, made with only fruit and a bit of sugar – so that the bold flavor of the berries wakes the taste buds in a way few other flavors are able to do (at least for me).
And don't those berries look so lovely peeking out from the stack like that?
Of course, you can serve these with the traditional topping – warmed maple syrup, if you prefer. Regardless, you'll love these light fluffy griddle cakes for breakfast, or for a light dinner.
Gluten-Free Pancakes
Gluten-Free Pancakes
This recipe is free from gluten, dairy, soy, peanuts, tree nuts. Eggs are optional.
Recipe type:
Breakfast, Brunch
Ingredients
¾ cup brown rice flour (or white rice flour)
½ cup sorghum flour
scant ½ cup potato starch (approximately ½ cup MINUS 1 Tablespoon)
1 Tablespoon flax meal (optional)
1 cup liquid (use water, rice milk, coconut milk, etc.)
2 Tablespoons oil
2 eggs (or egg replacer to equal 2 large eggs)
1½ teaspoons baking powder
¼ teaspoon salt
½ - 1 teaspoon ground cinnamon (optional)
½ - 1 teaspoon ground ginger (optional)
Instructions
Whisk the dry ingredients together.
Combine the liquid ingredients in a separate bowl and whisk.
Add the liquid ingredients to the dry .
Stir until the batter is completely smooth and combined.
Heat a skillet or griddle over medium-high heat, add a thin layer of oil or spray with cooking spray, and spoon batter onto pan, using about ¼ cup of the batter for each pancake.
Cook on the first side until the edges appear to be set and tiny bubbles begin to form on top.
Carefully flip pancakes over and cook for an additional 2-3 minutes, or until set and slightly puffed in the center.
Watch the video…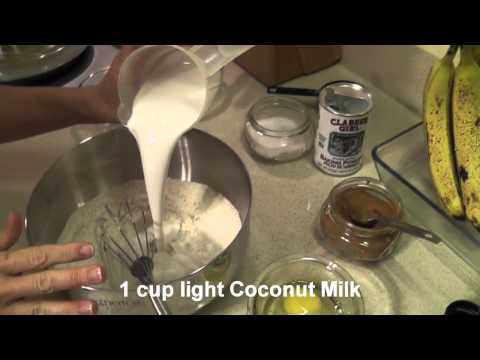 Thought you'd like to know…
To keep pancakes warm as you cook the entire batch: Preheat your oven to 275 degrees. Prepare a rectangular cookie sheet by covering with foil. As you cook pancakes, place them on the foil-lined pan, gently fold the foil over to cover the pancakes, and place in the preheated oven until you've cooked all the batter.
You may also enjoy my Gluten-Free Snickerdoodle Pancakes and my Gluten-Free Red Velvet Pancakes!
Don't miss another delish dish! Sign up for my free eNewsletter, the Daily Gluten Free Fix, and have each new recipe and article delivered to your inbox.
While you're here, browse the Recipe Index for recipes free from gluten, dairy, soy, peanuts, and tree nuts. And be sure to explore my vast collection of "Smart Nutrition Backed by Science" articles in Gluten-Free Updates and check out eBooks in the Shop.
If you're NEW TO GLUTEN FREE LIVING, click on over to the Essentials.
Wait, there's more! Let's connect on Facebook, Twitter, Pinterest and Instagram, too!
Access the current issue of Food Solutions Magazine ~ it's free to everyone!