Gluten Free Streusel Topped Sweet Potato Casserole
This Gluten Free Streusel Topped Sweet Potato Casserole will soon become a holiday favorite at your house! It is low in fat, filled with the antioxidant, beta-carotene, and rich in vitamins and fiber…not to mention, it tastes great!
Gluten Free Streusel Topped Sweet Potato Casserole
Gluten Free Streusel Topped Sweet Potato Casserole
This recipe is free from: gluten, dairy/casein (option), soy, peanuts, tree nuts, corn.
Ingredients
Sweet Potato Mixture:
6 cups sweet potatoes, peeled, cubed, and cooked
¼ cup milk (dairy or plant based will work; I use unsweetened coconut milk.)
¼ cup pure maple syrup (substitute honey or another liquid sugar, if you prefer)
½ teaspoon salt
1 egg, lightly beaten
Streusel Topping:
¼ cup brown rice flour (See Substituting Gluten Free Flours and Starches if you need to replace the brown rice flour.)
¼ cup brown sugar, firmly packed (you may substitute coconut sugar, if you prefer)
1 teaspoon ground cinnamon
2 Tablespoons chilled dairy free butter substitute (use real butter, if you eat dairy)
NOTE: if you eat nuts, you may want to add up to ½ cup chopped pecans to the topping mixture. You could also add sunflower seed kernels if nut-free.
Instructions
Preheat oven to 375F.
Lightly grease an 11x7-inch baking dish. (or your favorite 2-quart baking dish)
First, cook the potatoes:
Place potatoes in a large pot; add just enough water to cover.
Bring water to a boil over high heat; cover the pot and reduce heat to medium. Cook approximately 15 minutes, or until potatoes are tender.
Drain the sweet potatoes; cool slightly.
Prepare the Potato Mixture:
Process potatoes in your food processor or blender until smooth. (Let them cool a bit before processing so the steam doesn't create a mini-explosion!)
Spoon potatoes into a mixing bowl; add milk, maple syrup, salt and egg.
Stir until blended.
Spoon potato mixture into prepared pan.
Set aside while you prepare the topping.
For Streusel Topping:
Combine flour, sugar and cinnamon; stir to blend.
Cut in butter with a fork until mixture resembles crumbs.
Sprinkle topping evenly over the top of the potato mixture.
Cover with foil and bake 15 minutes.
Remove foil and bake an additional 25 minutes.
Remove from oven, cool 15 minutes before serving.
Thought you'd like to know…
In place of the egg, you may substitute Ener-G egg replacer prepared to equal 1 large egg.
To Store and Reheat:
Store leftovers, covered, in the refrigerator for up to 5 days.
This dish can be frozen for up to one month.
To reheat, first thaw at room temperature, then place in a 350F oven until heated through.
See exactly how it's done with this fun how-to video!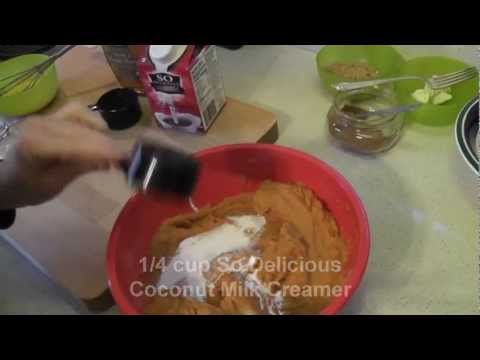 Enjoy all the gluten-free recipes I have for you in my Gluten-Free Recipe Index!
Take advantage of the Knowledge Section for articles on Celiac disease and related health issues, as well as information on supplements, food additives, ingredients and more.
It is because of you that I am able to share the free information here for you to use and enjoy. Please consider supporting what I do each day by purchasing from my online Shop or subscribing to my digital ad-free gluten-free living magazine, Food Solutions. It is sure to enhance your gluten-free life!
Thank you for supporting what I do!
xo
Gigi ;)